Serve As One is a community service partnership of a group of Christian churches in the Capital Region. Through a unified effort, these churches strive to show God's love in practical ways, through meaningful acts of service, with a focus on those who are underserved and struggling.
Click on your church or organization's name to sign up for one of three different serving opportunities, all happening on October 26.
Serve As One will be partnering with Unity House (Troy and Lansingburgh) and Joseph's House & Shelter (Troy).
(See Q&A section below for specific locations, description of projects and more.)
You've got questions? We've got answers!
What is the schedule for October 26?
Arrive at Project Site: 8:45am – 9:00am
Introduction & Orientation: 9:00am – 9:15am
Projects: 9:15am – 11:45am
Clean Up & Wrap Up: 11:45am – Noon
Lunch: Lunch will not be provided for this event, but we will have some nice "fall type" snacks for you to enjoy throughout the morning.
NOTE: This is a SHINE ONLY event. (You will be contacted by email if the event is cancelled on or before 9:00PM on October 25.)
Where will we be working?
We will have teams working at three different locations:    (Note:  You can choose your preferred project location when you sign up.)

Unity House Main Building, the "Front Door' (2431 6th Ave, Troy)
Unity House Community Residence (

695 6th Street, Troy)

Joseph's House & Shelter

 

(74 Ferry Street, Troy)
What kind of work will we be doing?
Unity House "Front Door": Major cleanup and spruce up of park-like gathering area

Unity House Community House: Fall clean up, trimming and new landscaping

Joseph's House: Painting of outdoor courtyard (fence, benches, etc.)
How many people will be serving?
We have identified a total of 30 – 35 volunteer slots, which will be filled on a first come basis, as follows:
Unity House "Front Door": 10 -12

Unity House Community Residence: 10 – 12

Joseph's House: 10 – 12
What should I bring and wear?
Please wear suitable work clothes and shoes anticipating they might get dirty and/or stained. Bring work gloves and a water bottle if you prefer your own, otherwise we will have gloves and bottled water as needed. Serve As One T-shirts will be provided to all volunteers. Most all required tools and supplies will be provided, but please bring the following if you can:
For Unity House (Both Locations): Leaf rakes, garden rakes, pruners, & gardening tools

For Joseph's House: Just bring yourself. All painting supplies will be provided

☺
Can I bring my kids?
The short answer is YES and NO ☺ Serve As One is all about families serving together, but we also want to be safe and smart. The projects at Unity House are completely family friendly with no minimum age limit, although our experience would indicate an age of 6 or 7 makes sense from a practical perspective. Due to the nature of the work at Joseph's House we are suggesting a minimum age of 16. Please note that anyone under the age of 16 for the Unity House projects must be accompanied by a parent or guardian at all times during the event. When you sign up to register for the event, please be sure to include information about each child that you are planning to bring.
What about transportation and parking?
Volunteers should plan on their own transportation.  Parking for Unity House "Front Door" is in adjacent parking lots, parking for Unity House Community Residence and Joseph's House is on the street.
Have a look at some of our teams at work!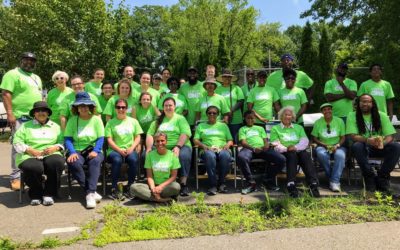 In partnership with the City of Albany and with support from Albany 518 SNUG, Serve as one had the unique opportunity to assist in clean up of fireworks debris in several neighborhoods in the City of Albany.
read more